The Jay Giroux painting "Chopped & Screwed Vol. 3" is a tour de force of layers created mostly by taping, painting, and spraying. Stare at it long enough and you'll notice leaping and bending figures, typographical elements, symbols, snakes and even angry birds emerge from the complex black-and-white composition. That's the beauty of figurative abstraction — it changes every time you look at it, and everyone sees something different.Giroux combines a background in urban street culture with an MFA in painting from the University of Houston. The work in this show pays homage to post-World War II gestural painting, that is, Abstract Expressionism. There is a bit of irony here, however, in that classic Abstract Expressionism as embodied by Jackson Pollock and Willem de Kooning involved spontaneous gestures, and Giroux's work is anything but. Although the creation of "Chopped and Screwed Vol 3" appears to include some paint-flinging, it seems for the most part to be a product of laborious process of taping, painting, and spraying, followed by more taping, painting, and spraying.A posted statement describes Giroux as "a scavenger of incidental gestures and lowbrow symbolism from the urban streetscape," yet it cites as influences the black and white paintings of de Kooning, as well as those by Franz Kline and Ad Reinhardt. The show's title — "Chopped and Screwed" — refers to a hip-hop music technique that was developed in Houston by the now-deceased DJ Screw, in which music was remixed by beat-skipping, record scratching, and stopping and starting to make a "chopped-up" version of the original. In a way, Giroux does th same thing to Abstract Expressionism, chopping and screwing it into something new. In his recent paintings, he has come up with a savvy style that combines elements of Abstract Expressionism with the look of contemporary urban street art. – See more at: http://www.visualartsource.com/index.php?page=editorial&pcID=26&aID=2307#sthash.ieycqWrq.dpuf
The Jay Giroux painting "Chopped & Screwed Vol. 3" is a tour de force of layers created mostly by taping, painting, and spraying. Stare at it long enough and you'll notice leaping and bending figures, typographical elements, symbols, snakes and even angry birds emerge from the complex black-and-white composition. That's the beauty of figurative abstraction — it changes every time you look at it, and everyone sees something different.Giroux combines a background in urban street culture with an MFA in painting from the University of Houston. The work in this show pays homage to post-World War II gestural painting, that is, Abstract Expressionism. There is a bit of irony here, however, in that classic Abstract Expressionism as embodied by Jackson Pollock and Willem de Kooning involved spontaneous gestures, and Giroux's work is anything but. Although the creation of "Chopped and Screwed Vol 3" appears to include some paint-flinging, it seems for the most part to be a product of laborious process of taping, painting, and spraying, followed by more taping, painting, and spraying.A posted statement describes Giroux as "a scavenger of incidental gestures and lowbrow symbolism from the urban streetscape," yet it cites as influences the black and white paintings of de Kooning, as well as those by Franz Kline and Ad Reinhardt. The show's title — "Chopped and Screwed" — refers to a hip-hop music technique that was developed in Houston by the now-deceased DJ Screw, in which music was remixed by beat-skipping, record scratching, and stopping and starting to make a "chopped-up" version of the original. In a way, Giroux does th same thing to Abstract Expressionism, chopping and screwing it into something new. In his recent paintings, he has come up with a savvy style that combines elements of Abstract Expressionism with the look of contemporary urban street art. – See more at: http://www.visualartsource.com/index.php?page=editorial&pcID=26&aID=2307#sthash.ieycqWrq.dpuf
The Jay Giroux painting "Chopped & Screwed Vol. 3" is a tour de force of layers created mostly by taping, painting, and spraying. Stare at it long enough and you'll notice leaping and bending figures, typographical elements, symbols, snakes and even angry birds emerge from the complex black-and-white composition. That's the beauty of figurative abstraction — it changes every time you look at it, and everyone sees something different.Giroux combines a background in urban street culture with an MFA in painting from the University of Houston. The work in this show pays homage to post-World War II gestural painting, that is, Abstract Expressionism. There is a bit of irony here, however, in that classic Abstract Expressionism as embodied by Jackson Pollock and Willem de Kooning involved spontaneous gestures, and Giroux's work is anything but. Although the creation of "Chopped and Screwed Vol 3" appears to include some paint-flinging, it seems for the most part to be a product of laborious process of taping, painting, and spraying, followed by more taping, painting, and spraying.A posted statement describes Giroux as "a scavenger of incidental gestures and lowbrow symbolism from the urban streetscape," yet it cites as influences the black and white paintings of de Kooning, as well as those by Franz Kline and Ad Reinhardt. The show's title — "Chopped and Screwed" — refers to a hip-hop music technique that was developed in Houston by the now-deceased DJ Screw, in which music was remixed by beat-skipping, record scratching, and stopping and starting to make a "chopped-up" version of the original. In a way, Giroux does th same thing to Abstract Expressionism, chopping and screwing it into something new. In his recent paintings, he has come up with a savvy style that combines elements of Abstract Expressionism with the look of contemporary urban street art. – See more at: http://www.visualartsource.com/index.php?page=editorial&pcID=26&aID=2307#sthash.KPbfpQWS.dpuf
The Jay Giroux painting "Chopped & Screwed Vol. 3" is a tour de force of layers created mostly by taping, painting, and spraying. Stare at it long enough and you'll notice leaping and bending figures, typographical elements, symbols, snakes and even angry birds emerge from the complex black-and-white composition. That's the beauty of figurative abstraction — it changes every time you look at it, and everyone sees something different.Giroux combines a background in urban street culture with an MFA in painting from the University of Houston. The work in this show pays homage to post-World War II gestural painting, that is, Abstract Expressionism. There is a bit of irony here, however, in that classic Abstract Expressionism as embodied by Jackson Pollock and Willem de Kooning involved spontaneous gestures, and Giroux's work is anything but. Although the creation of "Chopped and Screwed Vol 3" appears to include some paint-flinging, it seems for the most part to be a product of laborious process of taping, painting, and spraying, followed by more taping, painting, and spraying.A posted statement describes Giroux as "a scavenger of incidental gestures and lowbrow symbolism from the urban streetscape," yet it cites as influences the black and white paintings of de Kooning, as well as those by Franz Kline and Ad Reinhardt. The show's title — "Chopped and Screwed" — refers to a hip-hop music technique that was developed in Houston by the now-deceased DJ Screw, in which music was remixed by beat-skipping, record scratching, and stopping and starting to make a "chopped-up" version of the original. In a way, Giroux does th same thing to Abstract Expressionism, chopping and screwing it into something new. In his recent paintings, he has come up with a savvy style that combines elements of Abstract Expressionism with the look of contemporary urban street art. – See more at: http://www.visualartsource.com/index.php?page=editorial&pcID=26&aID=2307#sthash.KPbfpQWS.dpuf
Darryl Lauster THE GREAT GOD PAN IS DEAD December 2014
Lauster's sculptures of off-shore oil-producing platforms are simplified forms–they don't depict these structures in detail. He is recalling the classic ship in a bottle model with these two pieces. For model makers, the ship in a bottle is a kind of bravura stunt, a "how'd he do it?" But with these wide-necked custom-made bottles that Lauster uses, there is no such mystery…Vessel deals with more historical horror and crime. It's another model, a boat made of papier-mâché. There are no sails, but it appears to be the hull of a sailing ship. There are also no decks. It's a crudely made hull on a metal stand.  And the paper from which Vessel is constructed is from an Antebellum pro-slavery text. It's vile and sickening, and it tells you what kind of ship you are looking at, and the wretched cargo of human beings it carried. The work in this show reels you in–the Tommy Dorsey music, the jocose photo of Lauster in the tight flight suit with his outrageous hockey hair, the cute little oil platforms in bottles–and then submerges you in war, slavery and death. Maybe this tactic is what it takes to convince us, passengers on a Ship of Fools, to face uncomfortable truths.- Robert Boyd
Eric Schnell GLASSTIRE October 2014
Schnell is guilty of outrageous self-indulgence, but at least he knows it, and takes bulimic steps in mitigation: he firmly disavows his drawings sanctity by cutting them into strips and using them to tape sticks together in his Tinkertoy village! As in a Zen koan, everything's in play: a drawing might be on the wall, or it might be shredded for use as convenient construction material. Little rocks and blocks propping the piece can be arranged and rearranged. The current configuration is merely the how Schnell left it, permanently incomplete, like a kid's model train set on the playroom floor.

The piece combines complex, haphazard composition with loving, methodical execution. Drawings scattered on the floor are stuck down with tiny hinges, lest they be blown out of place by the wind when the gallery door opens. Every little negligible scrap is set just so, as if Schnell was a latter-day monk, come from his cell on Galveston Island to build a new model of the cosmos in seagrass and blue thread. – Bill Davenport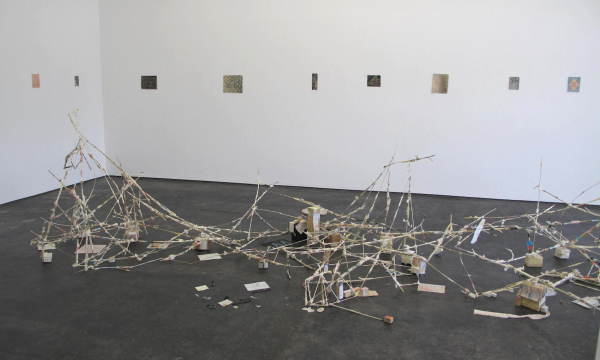 Eric Schnell Art Ltd. Magazine September 2014
After eight years in New York, Eric Schnell returned to Texas to co-found the Galveston Artist Residency and to establish his studio. His artwork has been described "as a sculptural manifestation of the human psyche," a non-linear, anything goes journey through a tangible representation of pure consciousness. For his intricate (some might say messy) installations, he uses detailed sculptural and illustrated elements to create a physical space from and for emotional conditions. Schnell composes piles of materials, including drawings, found objects, and a wide range of reference materials, to encourage free association and imagination. There is no distinct guide, no proper instruction, for how to navigate the worlds Schnell creates; instead, viewers must rely on their personal experiences to find their way and to decipher metaphors for some of life's most difficult situations–for example, "reading" the implications of boats, chairs, forests. For "The Book of Pure Science," his in situ exhibition at Devin Borden, Schnell has created new sculptures and drawings that continue his signature style as evidenced in his 2002 Hammer Projects show at the Hammer Museum in Los Angeles and numerous subsequent exhibitions. – Nancy Zastudil
Kaneem Smith GLASSTIRE July 2014
This Weeks Top Five Events: Kaneem Smith "Substrate" at Devin Borden Gallery (Houston) Through August 18…Because sometimes it's nice to look at something beautiful and well-executed.
Jay Giroux VISUAL ARTS SOURCE June 2014
The Jay Grioux painting "Chopped & Screwed Vol. 3." is a tour de force of layers created mostly by taping, painting and spraying.  Stare at it long enough and you'll notice leaping and bending figures, typographical elements, symbols, snakes and even angry birds emerge from the complex black-and-white composition.  That's the beauty of figurative abstraction – it changes every time you look at it, and everyone sees something different.

Giroux combines a background in urban street culture with an MFA in painting from the University of Houston.  The work in this show pays homage to post-World War II gestural apinting, that is, Abstract Expressionism…The show's title – "Chopped and Screwed" – refers to a hip-hop music technique that was developed in Houston by the now-deceased DJ Screw, in which music was remixed by beat-skipping, record scratching, and stopping and starting to make a "chopped-up" version of the original.  In a way, Giroux does the same thing to Abstract Expressionism, chopping and screwing it into something new. – Donna Tennant
The Jay Giroux painting "Chopped & Screwed Vol. 3" is a tour de force of layers created mostly by taping, painting, and spraying. Stare at it long enough and you'll notice leaping and bending figures, typographical elements, symbols, snakes and even angry birds emerge from the complex black-and-white composition. That's the beauty of figurative abstraction — it changes every time you look at it, and everyone sees something different. – See more at: http://www.visualartsource.com/index.php?page=editorial&pcID=26&aID=2307#sthash.KPbfpQWS.dpuf
Laura Lark A + C TEXAS May 2014
The exhibition title mirrors Rod Serling's 1970s macabre television series Night Gallery, less well-known than The Twilight Zone. Lark's use of the title is an important detail, one that hints at a complex history of women considered or viewed as the lesser sex. Further, through her use of black ink—her only painting material—she transfers great visual power to what is otherwise assumed to be vapid: negative space.  Lark creates these works at a time when identity—and, not surprisingly, an artist's identity—is drowning in self-reflexivity, for better or worse. (If you've seen Hollywood actor James Franco's selfies re-enacting Cindy Sherman's Untitled Film Stills, you'll know what I mean.) But the gaze in Night Gallery isn't art history's male gaze; instead Daisy (.) and Daisy (,) are female eyes, disembodied. – Nancy Zastudil
Laura Lark THE HOUSTON CHRONICLE May 2014
Larks' drawings, also obsessive in their attention to detail, are cooler and intentionally distant, suggesting the dulling effect of mass media on the psyche…The most compelling drawings of the series have a film-noir vibe, including "Arena," whose figure emerges from deep blackness; and the nearly abstract "Nettle," a pointillist marvel depicting the torso of a bride with a big bouquet.- Molly Glentzer
Sharon Engelstein HOUSTON December 2013
Aaron Parazette and Sharon Engelstein – epitomizing Houston's rise as a major arts hub as they grow their own notoriety, and family – are Houston Magazine's Artists of the Year…Beyond her curatorial efforts at Front Gallery, this year Engelstein has had designs selected for public art installations in Houston and Austin.  In the capital city, she is crafting a permanent monumental sculpture as part of Austin's Art in Public Places program.  And in H-Town Engelstein is one of just two local artists who's been selected to create special installations for the Hermann Park centennial celebration coming in 2014.  Engelstein also made a splash at this year's Texas Contemporary Arts Fair, where her large-scale inflatable sculptures beguilded visitors at the event entrance. – Dan Oko
Melissa Thorne THE HOUSTON PRESS November 2013

"Melissa Thorne: A Wall Around a Window" is the kind of project you don't see a lot in commercial galleries. Wall paintings cost time and money to execute. And it's not as if someone can then buy them and walk out the door. (Although, if I had any cash, I'd commission some concrete block wall paintings for my house.) I'm always glad when a gallery goes the extra mile and lets an artist do something that isn't easily salable but is a worthy project. Thorne's paintings are ­successful in their own right, but in the context of the concrete block wall they become part of a visually and conceptually dynamic installation.- Kelly Klaasmeyer
Jay Giroux THE HOUSTON PRESS July 2013
Highbrow meets lowbrow.  That can be a glib yet effective way of way of describing the work of Jay Giroux — an artist with a background in skate and street culture who holds an MFA in painting from the University of Houston.  The Brooklyn artist's first solo show at Devin Borden Gallery, titled "Ideas Are Free," explores that dynamic as he marries aspects of pop culture with high formalism. – Meredith Deliso
Jillian Conrad HOUSTONIA July 2013
Houston sculptor Jillian Conrad is a lot like that kid you knew growing up who was always playing with Tinker Toys, the one who, through some elaborate circumvention of the laws of physics, could build Dubai on your bedroom floor in under an hour.  Conrad, much like the Tinker Toys protégé of your youth, seems to have an intuitive understanding of how things connect. Much of the soft-spoken New Mexico native's raw, earthy work focuses on slowing down the world as we see it and honing in on the subtleties of normally overlooked connections: how a wall meets a floor, how that wall is held together.  In Ley Lines, her solo exhibition at the Devin Borden Gallery, the University of Houston assistant professor of sculpture takes her interest in connection into a more magical realm.  The show was inspired by the work of the early twentieth century amateur British archaeologist Alfred Watkins, who sought to explain the apparent existence of massive trackways in the British landscape that seemed to follow the alignment of ancient monuments.  "He was making this theory that in the landscape there are actually direct lines between natural and manmade monuments," Conrad explains.  Watkins's idea was later taken up by English New Age writer John Michell, who postulated that those ancient "Ley Lines" were connected to energy channels within the earth— a kind of large-scale feng shui that was unwittingly tapped into by ancient peoples.  From spindly, gravity-defying bronze sculptures that resemble antennae to map-like fabric drawings of graphite and thread, the fifteen pieces in the exhibition all resemble conduits for the natural energy of Watkins's Ley Lines.  "I'm working with very familiar, ordinary, everyday materials," Conrad says. "And there's something very straightforward about the work. It's all constructed in very straightforward ways. There's no hidden magic going on, but at the same time I'm trying to have these everyday materials have a deeper presence, or a kind of energetic presence. A kind of mix of the mundane and magical fits what's I'm trying to do." -Daniel Renfrow
Jillian Conrad THE HOUSTON CHRONICLE June 2013
At Borden's gallery, 15 finished works are painstakingly apportioned across two rooms.  They range from the 6-inch tall "Lil' Norbert" to the 107-inch tall "The old straight track."  At first glance the sculptures seem like they have no business together….while she was building these pieces, Conrad also…pondered a long list of favorite materials and how they would play into her notions of line, balance, scale and color.  She thought about things in opposition – raw verus cooked, high versus low, floating versus anchored, tangible versus intangible, small versus large. – Molly Glentzer
Jillian Conrad THE GREAT GOD PAN IS DEAD May 2013
The power of Ley Lines lies in moments of utter believability. The viewer cognitively understands that these structures are completely contrived by the artist, yet the pieces somehow effortlessly present themselves as unified objects that could plausibly show up in the world, at least the world outside of the gallery.…Ley Lines as a complete arrangement is sparse, and appropriately so: Jillian Conrad makes pieces that need to meander. They are demure yet aggressive, improbable yet trustworthy. And while they are often reminiscent of an innocent curiosity, they also evoke the kind of anxiety that compels a viewer to repeatedly rethink and revisit her work.-Betsy Huete
Geoff Hippenstiel THE HOUSTON PRESS April 2013
Engaging seems hardly strong enough a word to describe what it's like to process a Hippenstiel. The longer you look at any of the five untitled works currently on display in "Territorial Pissings" at Devin Borden Gallery, the more you see. You're left with a completely different painting than when you first approached.  That's because the abstract works are layered with unexpected colors and markings that are waiting to be discovered, even after you've lived with them. They are thick with impasto, like the end result of some volcanic eruption that's spilled lime green, purple, red, gold and blue across the canvas in spurts. The canvases are massive, too; in a gallery equipped with 14-foot-high ceilings, the 8-foot-tall paintings don't seem all that big, but they are towering works.- Meredith Deliso
Laura Lark / Elton John CULTURE MAP March 2013
Geoff Hippenstiel ARTS + CULTURE MAGAZINE March 2013
Much has been made – by me as well as others – of the way Houston artist Geoff Hippenstiel moves between figuration and abstraction in paintings that combine over-the-top impasto with metallic silver or gold spray paint. In his second solo outing at Devin Borden Gallery, Hippenstiel turns that movement into a five-part narrative on the progression of a dark yet colorful portrait of a human skull into a gold, abstract monochrome – with the caveat that each "installment" of the story is itself a finished painting.

That's not to say that they all necessarily look finished. Although – as a wonderful selection of small works in the back room proves – Hippenstiel knows how to make sumptuous, easy-to-love abstractions, he is just as often eager to complicate and even undermine that tendency in his work. – Devon Britt-Darby
Nicholas Kersulis THE GREAT GOD PAN IS DEAD March 2013
The notion of an imperfect mirroring is quite literally carried out in Here Be I. The painted panels repeat the basic square arrangements of the other pieces, but instead of being two highly contrasting colors, they are uniform grey. The viewer can still make out the squares from the brushstrokes, however.  The photograph is a photo of the central painted panel from After death, laying on a flat surface with a mirror propped up beside it. Kersulis has digitally manipulated the photo to desaturate the image of the painting so that it looks completely grey. But he has left the reflection of the painting alone. This creates an amusing optical illusion, that a grey painting is being reflected in bright colors.   And it is yet another imperfect pairing.-Robert Boyd
Geoff Hippenstiel VISUAL ART SOURCE March 2013
Hippenstiel's paintings are a study in contrast — explosive yet controlled, abstract but still vaguely representational. He creates the illusion of depth while affirming the importance of the surface. Using both artist's pigments and industrial paints, he experiments boldly with color. Metallic silver and gold, countless shades of green, light pink, orange, sky blue, purple, and acid yellow, along with white, black, and gray, are applied with a steady hand that keeps the proceedings under control.

The title of the show, "Territorial Pissings," conjures the image of a dog marking his territory and establishing his domain. Consequently, one might assume that these paintings are thoroughly masculine in nature. And yet, Hippenstiel's work has a refined, feminine side as well. The large painting composed of shimmering gold layered over shades of green is an elegant marriage of both gender sensibilities.- Donna Tennant
Laura Lark and Devin Borden Gallery VOGUE ITALIA March 2013
Devin Borden PAPERCITY MAGAZINE March 2013
Ted Kincaid THE HOUSTON CHRONICLE January 2013
Ted Kincaid's meticulously composed, photo-based works depict quiet landscapes, seascapes and moonscapes teeming with details.  A many-branched tree, silhouetted against a sky with a million stars, sits on a ghostly prairie.  A ship sails on a sea of turbulent waves…All the technical dexterity wouldn't matter if the images weren't also captivating, inventing dreamy realms that welcome you to lose yourself in them.

-Molly Glentzer
Ted Kincaid HOUSTON MAGAZINE January 2013

 Kincaid is a technological fabulist, who digitally manipulates images to make, in his words, "fake photographs that look real and real photographs that look fake." The shrouded ships in his pictures never existed, and though the bright clouds really did, they've been warped and colored in ways you'd never see in real life.

- Dan Oko
 Sharon Engelstein ART LTD. January/February 2013
Sharon Engelstein's new series strikes an impressive balance between fun and beautiful, anthropomorphic and abstract….The ceramics are an absolute pleasure to behold, with light bouncing off their glazes and absorbing into the matte ceramic and soft wax.  One can imagine running one's hands along the surface, tickling the rough edges of fired clay and caressing the pools of smooth wax.

- Rachel Hooper
Sharon Engelstein HOUSTON PRESS December 2012
Rather than placing her objects in isolation on shelves or pedestals around the room, Engelstein has grouped them together on irregular stacks of white Styrofoam blocks. It's a stroke of genius. It's as if the objects were the inhabitants of some arctic island. The sculptures work well together, feeding off each other to convey their own odd reality.

- Kelly Klaasmeyer
Matthew Sontheimer HOUSTON PRESS December 2012
The works are filled with snippets of an internal conversation.  It's as if Sontheimer transcribed every thought he had while making work — about making work.  Sontheimer is acknowledging the joy, doubt, obsessiveness and neuroses that go along with making art, but he's also laughing at them.  These are very self-award and drily funny works…It's fascinating to have a work composed of a conversation about the making of that wrok.  But part of the success of the collages is that they function on a variety of levels.

- Kelly Klaasmeyer
Sharon Engelstein A+C MAGAZINE December 2012
Sharon Engelstein: I like that very much a lot – Individually evoking cartoonish fragments of bodies, Engelstein's 10 ceramic sculptures exude a creepy-and-kooky Addams Family-like charm. But it's the inspired way she's installed them – huddled together on Styrofoam pedestals, which bring out both their playful and melancholic qualities, they muster a tragicomic grandeur –that gives the ensemble an impact worthy of the best installations in the Museum of Fine Arts, Houston's recent Shifting Paradigms in Contemporary Ceramics: The Garth Clark and Mark Del Vecchio Collection. A knockout. Through December 22 at Devin Borden Gallery. — A+C Magazine
Sharon Engelstein HOUSTON PRESS November 2012
The show, titled "I like that very much a lot" is the latest incarnation of Engelstein's ceramic works and her interest in organic abstraction. They're organic in their shapes, as well as their materials — primarily clay and wax. Whipped, the wax has an unrefined nature when placed with the smooth, perfectness of the ceramic. Pieces that consist of both of these materials, such as Free Wall and Foot Wall, have this corroding quality, as if the wax is taking over the brick ceramic walls. It's an intriguing dynamic that gives the illusion that the pieces are alive and changing…

-Meredith Deliso
Nicole Phungrasamee Fein THE WEEK November 2012
Nicole Phungrasamee Fein ARTFORUM October 2012
Departing from her previous neutral and ocherous palette, Nicole Phungrasamee Fein introduces shocks of vibrant color in "Forgotten," one of the artist's two solo exhibitions this fall (the other is at Philadelphia's Gallery Joe). While the atmospheric and monochromatic watercolors on view here range from pink to phosphorescent green, Fein's process is still as resolute as ever: Each work is the product of a single sitting and the artist's absolute concentration on her lines. In 1080512, 2012, Fein lays down a series of—adjacent but never overlapping—horizontal powder-blue bands with a one-inch-wide brush; a slight distance below, she uses the same technique, moving the brush left to right, to overlay strokes of dusk-blue watercolor. With gravity forcing excess pigment to the sides of the meniscus, the washes of color darken at the sides, creating the false illusion of inked lines. Fein's final pass of gray-blue leaves a shadow at the bottom of the composition, a ghostly trace that both echoes the ethereal quality of Agnes Martin's watercolors and lends a sense of objectness or weight to the image.

Like Martin, Fein is interested in the meditative calm afforded by a serial process. Fein also draws inspiration from the optical plenitude of the natural world. Where Martin found transcendence in the unending horizon line of the desert, Fein, acknowledging her childhood in California, looks to the infinite space engendered by the blurred meeting of sea and sky.

While the prescriptive nature of Fein's mark-making system may seem rationalized or detached, the drawings are acutely alive. Never precisely square, the fields contract and expand as if they are breathing. Indeed, the colors pulsate and flicker. These works may be subdued and serene, but they are never beaten down. It is this tension—between the predetermined rigor of Fein's system and the sheer beauty of the outcome—that makes these pieces so fascinating.—

-Elliott Zooey Martin
Andy Coolquitt GLASSTIRE October 2012
…the work is broadly conceptual, with Coolquitt relentlessly comparing and conflating the nature and significance of the found, the appropriated and the made. The extent to which the work succeeds in this capacity is both surprising and real
Awardees for the Artadia Awards 2012 Houston Announced!

We are ecstatic to announce the Awardees for the Artadia Awards 2012 Houston: Jillian Conrad and Carl Suddath at the $15,000 level. Francesca Fuchs, Seth Mittag, and Jang soon Im at the $5,000 level. The awardees were selected by a fantastic jury: Michelle White, Curator, The Menil Collection, Houston; Patrick Charpenel, Director, Jumex Foundation/Collection, Mexico City, MX; and Naima Keith, Assistant Curator, The Studio Museum Harlem, New York.
Geoff Hippensteil at the Pan Art Fair at GLASSTIRE October 2012
The highlight of the fair are the "micro booths" i.e. drawers filled with art. That Geoff Hippenstiel, who had a focus booth at the Houston Fine Art Fair, now has small works in a drawer is both beautifully egalitarian and speaks to the high quality of work that one can find in the smallest of places at the Pan Art Fair.

-Rachel Hooper
Andy Coolquitt Art Ltd. Magazine August 2012
Weeks before his Blaffer Art Museum-organized traveling survey opens at AMOA-Arthouse, the recently merged Austin Museum of Art and Arthouse, Austin-based artist Andy Coolquitt debuts a site-specific sculpture cheekily titled no I didn't go to any museums here I hate museums museums are just stores that charge you to come in there are lots of free museums here but they have names like real stores at Devin Borden Gallery. (The exhibition bears the same mouthful of a title.) Coolquitt combines disparate scavenged materials found near his studio into architecturally suggestive compositions divided by sheets of Plexiglas; recent examples include Plus Sign, a Blaffer-sponsored installation at last year's Texas Contemporary art fair. Acknowledging the long shadow of Marcel Duchamp's readymades, Coolquitt's practice includes "somebodymades"–groupings of objects arranged exactly as he found them in the streets–and "in-betweens," which incorporate his own interventions into the found assemblages. Coolquitt's show opens September 7 at Devin Borden Gallery and continues through October 27. – Devon Britt-Darby

 
Geoff Hippenstiel HOUSTON PRESS August 2012
Geoff Hippenstiel's solo exhibition at Devin Borden Gallery in January received several thumb-ups from critics, ranging from a write-up in Art in America to a positive takeaway in this very publication.  It's not hard to see why. Hippenstiel's curious oils were stacked with paint layer after paint layer, obscuring the original shape, image or construction underneath.

-Steve Jansen
Todd Hebert GLASSTIRE July 2012
This painting by Todd Hebert was in a recent exhibition at Devin Borden Gallery and got me thinking about making this list. The image has an unapologetically iconic American quality that speaks to me…in a southern accent.

-Bryan Miller
Hilary Wilder HOUSTON PRESS July 2012
To tell these stories, Wilder uses an impressive range of materials and skills…Through her skilled and meticulous painting, Wilder manages to confuse us with works that play with ideas of disorder and order, the real and the ideal — tempting dichotomies for any artist anywhere and in any medium, but which are effectively explored here.

-Meredith Deliso
Todd Hebert HOUSTON PRESS June 2012
Hebert's quiet paintings may come across as mere representations. And yet these all-too-familiar items become new, strange, humorous, creepy, striking and, in a different way than already described, even moving.

-Meredith Deliso
Charles Wiese MODERN LUXURY May 2012
Charles Wiese…describes making his otherworldly abstract prints as a way of "finding form and structure in chaos and complexity"…a design program enables him to transport himself inside his pieces and explore them while they're under construction.

-Daniel Renfrow
Geoff Hippenstiel ART IN AMERICA May 2012
The mosaiclike painting has the opulent richness of a Byzantine icon, or a Klimt. From certain angles in the gallery, the metallic paintings bounced back the Texas sunlight until the brightness of the reflection was the only thing you could see of them. Not the least of Hippenstiel's achievements is his brilliant orchestration of movement from paint to light.
-Raphael Rubinstein
 Christopher French MODERN HOUSTON May 2012

The paintings of lines exploding to circle points have a cold mathematical logic warmed by very earthy colors. French seems to be capturing the first nanosecond of cream dropping in coffee, or the first moment of the big bang. Both might look similar before the next few moments when chaos takes over.

-Todd Camplin
Table Top: Sharon Englestein, Nicholas Kersulis, Darryl Lauster, Matt Messinger and Kaneem Smith at THE GREAT GOD PAN IS DEAD April 2012
You don't see a lot of sculpture in galleries. Work tend to be "wall art"–paintings, photos, drawings, collages, reliefs, etc. The reason is obvious–sculpture is hard to own and display. For a collector, sculpture displaces furniture. It renders some amount of floor space unusable. It's just not as convenient to collect as wall art. So that means sculpture is not something you see very often in art galleries. And that's too bad.

-Robert Boyd
Table Top A+C MAGAZINE May 2012
If this group show of diminutive sculptures had cheeks, you'd want to pinch them.  Even the title is adorable. But the works here outperform their perceived cuteness. Nicholas Kersulis applies countless layers of black gesso to found stones, letting the shape of each rock's surface guide his brushstrokes. Adding to the works' obsessive quality, they're placed exactly where they were on the table when Kersulis made them and are oriented the same direction. He insists they be sold as a set. Sharon Engelstein's organic, bulbous forms were created using an elaborate 3-D printing process. Like rings on a tree, they bear the evidence of their history. Darryl Lauster, Matt Messinger, and Kaneem Smith round out a solid mix of work, adding motorized motion, found-object assemblage, and a deep engagement with loaded materials, respectively to the range of approaches sampled. – Devon Britt-Darby
Jillian Conrad ARTFORUM March 2012
Conrad's installations…undo our learned assumptions about perception.  They ask such counterintuitive questions as: Is color tactile?  Is light a three-dimensional form?

-Jennifer King
 Geoff Hippenstiel ART LTD. Magazine March 2012
Less than two years after earning his master's degree from the University of Houston, painter Geoff Hippenstiel has already demonstrated a mastery of scale that eludes many gestural abstractionists. In last year's "The Invisible World," a two-person exhibition with Kay Tasuji at PG Contemporary, Hippenstiel filled a huge wall with a salon-style hanging of 52 small paintings, none larger than 20 by 16 inches. Now he's followed up with a confident solo outing at Devin Borden Gallery, taking elements of the previous show's most riveting works–sumptuous impasto passages of lush color intriguingly offset by metallic gold and silver paint–and convincingly blowing them up to AbEx scale.

-Douglas Britt
Geoff Hippenstiel FLUENT COLLABORATIVE…MIGHT BE GOOD March 2012
Every artist has their own way of knowing when an artwork is finished, when everything that needs to be there is there and when doing anything more would be too much. Sometimes the most interesting artwork is never finished; It is just about to fall apart. In barely holding together, it has a potentially explosive energy, like uranium atoms about to break apart in an explosive fission.

Geoff Hippenstiel's compositions have this kind of crackling cohesion that are just about to burst. From a distance, they seem like abstracted landscapes, portraits or cosmic maps. But up close, the large canvases are masses of frenetic brushstrokes and thick swaths of paint laid down by a pallet knife heaped on top of one another until the canvas vibrates with light, color and texture. He paints small and large canvases with the same vigorous technique…

-Rachel Hooper
Laura Lark ART AND CULTURE MAGAZINE Profile February 2012
In Lark's experience, two assumptions are usually made about her work: one, that her large scale, painstakingly hand drawn, detailed images are commercial prints; and two, that the figures she portrays are actually her. She resists the temptation to point out the absurdity of an 11' printing press. And when, during the exhibition opening for what is assumed to be a "deeply autobiographical" series of works, someone places a hand on her shoulder and says, "I'm sorry you're so sad," her dry, witty response tends to be, "Yeah…me too…but not for the reasons you're thinking."

-Nancy Zastudil
Geoff Hippenstiel THE GREAT GOD PAN IS DEAD January 2012
When I first walked into Devin Borden Gallery and saw Geoff Hippenstiel's large new canvases, the first thing I noticed was the gold and silver paint. This sparkly metallic paint calls attention to itself, in part because it's not something you see often on paintings like these–large, painterly abstractions.

-Robert Boyd
Devin Borden Gallery  PAPERCITY MAGAZINE November 2011
Significantly, four in our story signify successful incarnations of spaces that had previously served as other (mostly art) walls; another represents the rebirth of a museum long dormant. We begin with the most important and influential: Devin Borden Gallery, whose arrival along the Isabella Court corridor — joining Inman Gallery, Bryan Miller, Art Palace and Kinzelman Art Consulting — creates critical mass and generates heat from its historic Spanish-styled storefront that once served as the HQ for design doyenne Evelyn Wilson. After an amicable split with his former business partner, the esteemed Hiram Butler, Borden has rapidly yet astutely established a stable of mid-career Texans and national talents that figure on many collectors' wish lists: Laura Lark, Ted Kincaid, Hilary Wilder, Matthew Sontheimer, Darryl Lauster and Charles Wiese of the mathematical worlds combined with old-master sensibilities (November 5 – January 10). Borden also represents up-and-coming Houston painter Geoff Hippenstiel, who excels at impastoed abstractions, while the gallery's inaugural show raided art history with a jewel-box presentation of the late Texan Ben Culwell, a favorite of Walter Hopps, whose intimate paintings and drawings document first-hand World War II from U.S. Navy battleships in the Pacific. Significantly, this newcomer's Saturday-afternoon openings have revived the entire Isabella complex.

-Catherine Anspon