March 26 (Saturday) 3 pm – Please join us for coffee and wine; Nick Vaughan and Jake Margolin will discuss the current exhibition in the context of their 50 States Project and lend fascinating insight into the rare and little-known nineteenth century novel Norma Trist.
Central to their current exhibition, Where the Ranch Actually Was, is a installation by Nick Vaughan and Jake Marolin entitled Spiritus: Norma Trist as a Volume of Captured Breath. The components of this work include a modest and dated desk, chair and microform reader displaying text, spools of yellow and white thread, and a cluster of translucent plastic bags prominently suspended from the gallery ceiling.  More bags are loosely assembled into a pile in a nearby corner , a gathering place for those which have been similarly inflated but not yet been added to the suspended mass.  Clues point to a logical order of assembly, but some explanation is necessary.
The installation is an ongoing performance; the components ultimately remain as the relics of the relatively simple act of reading aloud and thus exhaling into the bags, filling them as the title states with "captured breath."  The microform displays scans of pages of a nineteenth century novel which bears the unwieldy name Norma Trist; or Pure Carbon: A Story of an Inversion of the Sexes.  Written by John Wesley Carhart and published in 1895, the book is recognized for this early portrayal of a central protagonist who is without ambiguity or reservation same-sex oriented.  With unflinching directness she declares, "My love…is according to my nature; therefore, God-given and right."  And make no bones about it, Norma Trist has acted upon her desires.  Equally stunning is that these words were written in the cultural backwater of La Grange, Texas, perhaps best known as the location of the infamous Chicken Ranch bordello, but also squarely within the Victorian era.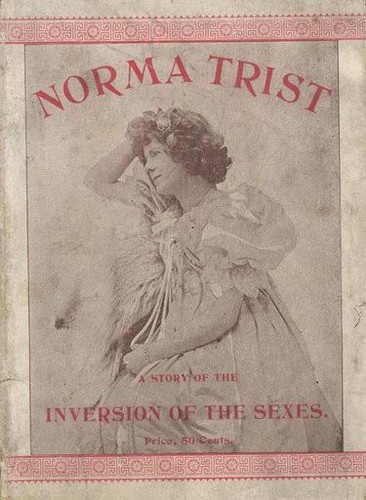 Nick Vaughan and Jake Margolin have made a series of such Spiritus works during the past few years, including Spiritus: John Wayne, in which his complete dialogue from eighty-four films has been similarly captured.  As part of an ambitious opus called the 50 States Project, Where the Ranch Actually Was is the partial unveiling of the Texas portion of the greater work which will be exhibited in New York this fall.  It follows closely 50 States: Wyoming exhibited earlier this year at Art League Houston.  Readings from Norma Trist will continue throughout exhibition, which also features Spiritus: Lawrence v. Texas, the fifty-odd pages of oral arguments in the landmark Supreme Court case, and a series of mesmerizing found road maps which the artists cut by hand to reveal hidden images.  At 3 pm (following the exhibition walkthrough of Casey William's exhibition at Art Palace) join us as Vaughan and Margolin lend intriguing insight into the place of Norma Trist in GLBT and Texas literary history.